Please take the procedures for the next fiscal year 2016 (April 2016 - March 2017)
The service will be automatically terminated in April, when you do not renew the contract,
We look forward to having you as an institutional user in the next fiscal year.
1. Renewal of Institutional Fixed-price Service.
* Only for the Administrator of the institution who made contract CiNii Institutional Fixed-price Service.
【Time period】
Monday, February 1 - Thursday, March 31, 2016
* The renewal period is limited only during the above dates.
【Renewal Procedure】
Renewal can be done through the website without any paper procedure.
Login with your administrator ID and password at the administrator login page.
 * The administrator ID is not the same as a CiNii individual ID.
 * Your Administrator ID and password are stated in the notification that has been sent to the contract person when the contract started.
 * If there are any changes for the current data, it needs to be modified before the renewal procedure.
Click "Renewal application".
Read the "Usage Regulations" and click "I Agree".
Update your institutional data and click "Next". (Your data for 2015 will be saved separately.)
Confirm your renewal data and click "Next".
The contract renewal has been completed. Please save your application number displayed for any inquiries.
【Price (April 2016 - March 2017)】
CiNii Terms of Use (PDF)
【To confirm your current institutional data】
Login with your administrator ID and password at the administrator login page.
Click "Change institution data".
Confirm your current data. (This year's registered data is shown).
 * Be sure to renew after correcting your institution data.
2. About function enhancement of CiNii on the fiscal year 2015
We will inform you again about the upgraded features of CiNii on the fiscal year 2015.
【Correspondence to user interface design for Mobile】
Based on user feedbacks we have received, we have made User Interface Design correspond to Mobile.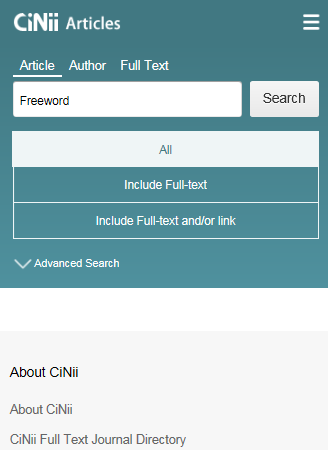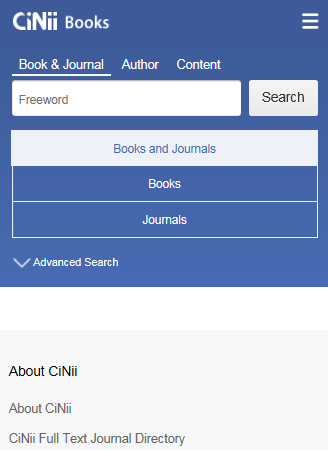 Figure 1: CiNii Articles & CiNii Books on smartphone
【「CiNii Dissertations」 Launched】
CiNii Dissertations is service that you can search unitarily and navigates you to your target thesis.
Link of "National Diet Library" and "Institutional Repositories of each university" allows users to search unitarily for comprehensively collected doctor theses.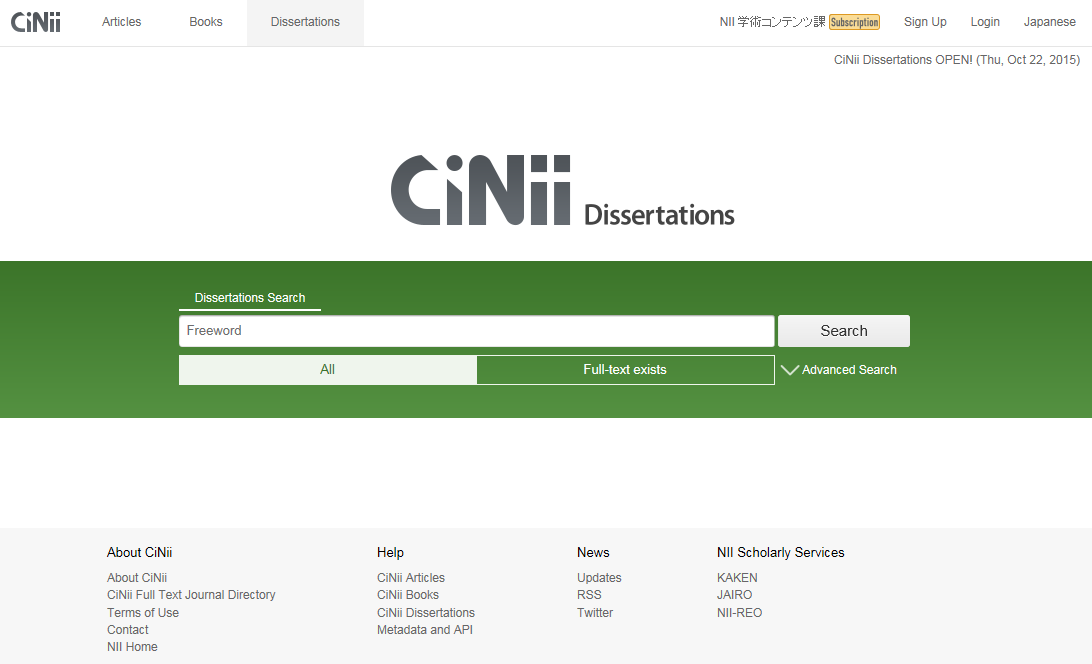 Figure 2: Front page of CiNii Dissertations


Figure 3: Advanced Search Page to search specifically for doctor thesis
【CiNii Articles / CiNii Books services have improved and added as follows】
New functions: Directly export to Mendeley from search results
New functions: Display a number of search results by ISBD in CiNii Books
Expansion of content search and display target data in CiNii Books
3. 【IMPORTANT】Future plans for change of CiNii service
With NII-ELS (National Institute of Informatics Electronic Library Service) ends, CiNii will be renewal to focus on offering CiNii Full-text PDF Open Access and support discovery of academic information. Therefore, CiNii will terminate Institutional Fixed-Price Service and Site License Individual ID. The details are as follows.
Termination day

March 31, 2017 (tentative date)
* The exact termination day will be informed on CiNii-News.

Termination of service

CiNii Institutional Fixed-Price Service
CiNii Individual ID and CiNii Site License Individual ID
Pay Per View

Continued service

Search for academic information of articles by CiNii Articles
Search for books and journal information from holding libraries by CiNii Books
Search for information of doctoral dissertations in Japan by CiNii Dissertations
Customization features by Institution authentication
(OPAC / links to resolver, priority display of holding library information)

Details for NII-ELS ending
4. Renewal of Site License Individual ID
This is an ID that can be obtained by members of institutions with fixed-price contracts (teaching staff, students, etc.).
There is no annual registration fee.
Please inform of renewal of ID to people who has Site License Individual ID in your institution.
* For all the Site License Individual ID Users.
【Time period】
Friday, April 1 - Tuesday, May 31, 2016.
* Acceptance starts from new fiscal year. It is different from Institutional Fixed-price Service.
* Please note that the renewal procedure cannot be acceptance except above time period.
【Instruction】
A Site License Individual ID is renewable only from a computer within the institution after April 1.
We will inform about the renewal of Site License Individual ID for the users by E-mail later.
* To check whether or not your institution has renewed its contract, please see FY 2016 renewal status list of Institutions with Fixed-Price Contracts.
5. Provision conditions of contents
Refer to the next pages, in order to confirm the provision conditions for "Subscription," "Paid" and "Open Access".
* Above page is based on current provision condition. If there are any changes for next year, we will inform about it in early April on this page.

* Subscription full text journals which will move to J-STAGE in 2016(FY) will be out of Institutional Fixed-price Service, as soon as their links of J-STAGE are displayed and available.
【For inquiries about CiNii in general】
CiNii Desk
National Institute of Informatics
E-mail: user-request@nii.ac.jp
【For inquiries about payment methods】
Finance and Accounting Account Team, General Affairs Budget and Accounts Division
E-mail: keiri@nii.ac.jp