Contents
Outline
CiNii provides Web API (Application Program Interface) for system linkages. The following four-type forms are being provided.
Please register and get your application ID for API from "API User Registration".
OpenURL
OpenURL is a standard of URL for transferring bibliographic information such as articles, books and journals between systems. It is used for the linking with library OPAC (Online Public Access Catalog), link resolver and so on. For more details about OpenURL, please refer to "OpenURL - Wikipedia, the free encyclopedia".
CiNii offers the OpenURL receiving function. By describing links with the OpenURL format enables the links to specific articles, journal information, or search results.
Also, CiNii has the OpenURL sending function (display function to link resolver or OPAC at Article details page at CiNii Research, Book and Journal details page at CiNii Books). For more details, please see "OpenURL Sending Function".
[Function Diagram] (The OpenURL in the diagram has been simplified)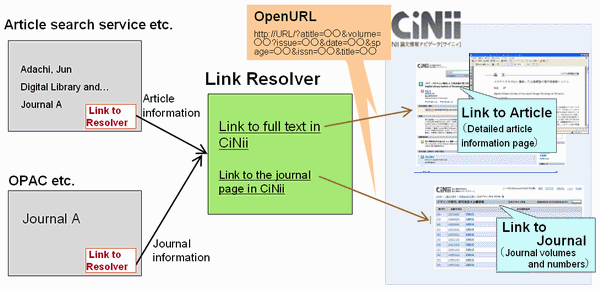 Please see the each API page for the details such as receivable parameters.
CiNii Research,
CiNii Books
CiNii Dissertations
OpenSearch
OpenSearch is a standard for using search results freely from other websites in the web services. For more details, please refer to "OpenSearch 1.1 Draft 4 Specification".
OpenSearch is available in the following three ways.