About the OpenURL Sending Function for CiNii Research
Administrators of Authentication Institutions are able to set links from CiNii to their systems (such as link resolvers(*NOTE2) and OPACs) by using OpenURL(*NOTE1).
If an institution has set links, users who are logged in with a Site License Individual ID or are accessing CiNii from their institution will see icons that connect to link resolvers or OPACs.
The maximum number of links that an institution can set is three.

【Function Diagram】(*The OpenURL in the diagram has been simplified.)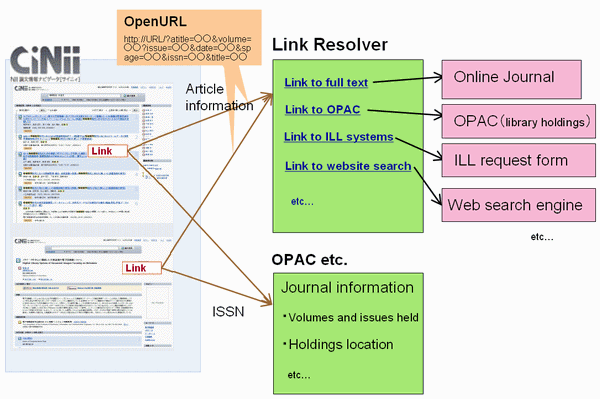 What systems can be linked?
Systems that have the OpenURL (1.0 or 0.1) receiving function and systems that provide search or display by receiving ISSN, ISBN as a URL parameter can be linked to.
For examples, systems such as link resolvers, reference management software (e.g. RefWorks), and OPACs that have an ISSN, ISBN field can be set up for linking.
When linking in the OpenURL format, bibliographical information (article title, author name, journal title, etc.) will be sent to the linked page.
* It came to be able to set two or more settings of OpenURL sending functions by one organization by delimiting the range of registered Internet Protocol address in April, 2010. Please see following "How to set links" for details.
Before you start...
Please prepare the following before setting a link.
Base URL (for OpenURL setting) or URL format for ISSN, ISBN transmitting
An image of icon for the link
* The size of the icon should be no more than 68 pixels (width) X 19 pixels (height).
* If no image is set, the default icon image will be displayed.
How to set links
Access the Institutional Authentication application screen, enter the application ID and application passcode, and restore the registered contents.
Follow the renewal application procedure, and set the following items for each IP address range.
If the same "OpenURL,OPAC group names" contains multiple IP address ranges, it is sufficient to set only the first IP address range.