About Results of Project
This page shows you how to check the results of project.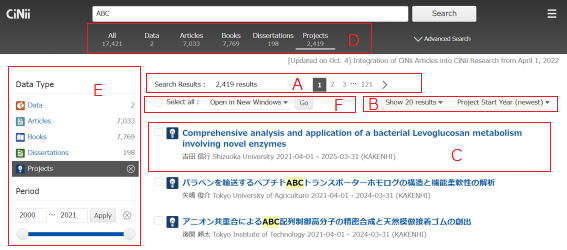 A. View Search Results / Move between Pages

Shows the number of records that match the entered keyword(s).
Move backwards and forwards between pages.
The keywords entered in the search screen are displayed for convenience.
Search conditions: search field (keyword)
Example: search conditions: simple search (Free word search: Interaction)
Example: search conditions: advanced search (Author: Adachi, Title: Interaction)
B. Change Order of Search Results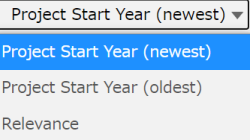 Displays the current search results in a different order.
Note that this applies only to the current display and is not an order specification for a narrowed search.
Year (Newest) … Sort in descending order of project start year
Year (Oldest) … Sort in ascending order of project start year
Relevance… Sort in descending order of relevance
C. View Simplified Information / Obtain Full Text
〈View simplified information〉

Project Title
Principal Researcher, Affiliation, Grant Period, Grant Project
〈Sample〉
C-1. Project Titles
Click Project Title to display the details.
C-2. Part of Abstract
Shows principal researcher, affiliation, grant period and grant project.
C-3. Highlight Search Keywords
In CiNii Research, the search term in the results are bolded and highlighted yellow to clearly show the hits.
D. Jump to Other Search Methods

Click the data category at the top of the page to move to the search results for each category. The keyword entered in the search box will remain.
Click the CiNii logo on the upper left of the page to return to the CiNii Research top page.