Author Search Results
The search results can be viewed by anyone free of charge. The following is an explanation of the author search results page.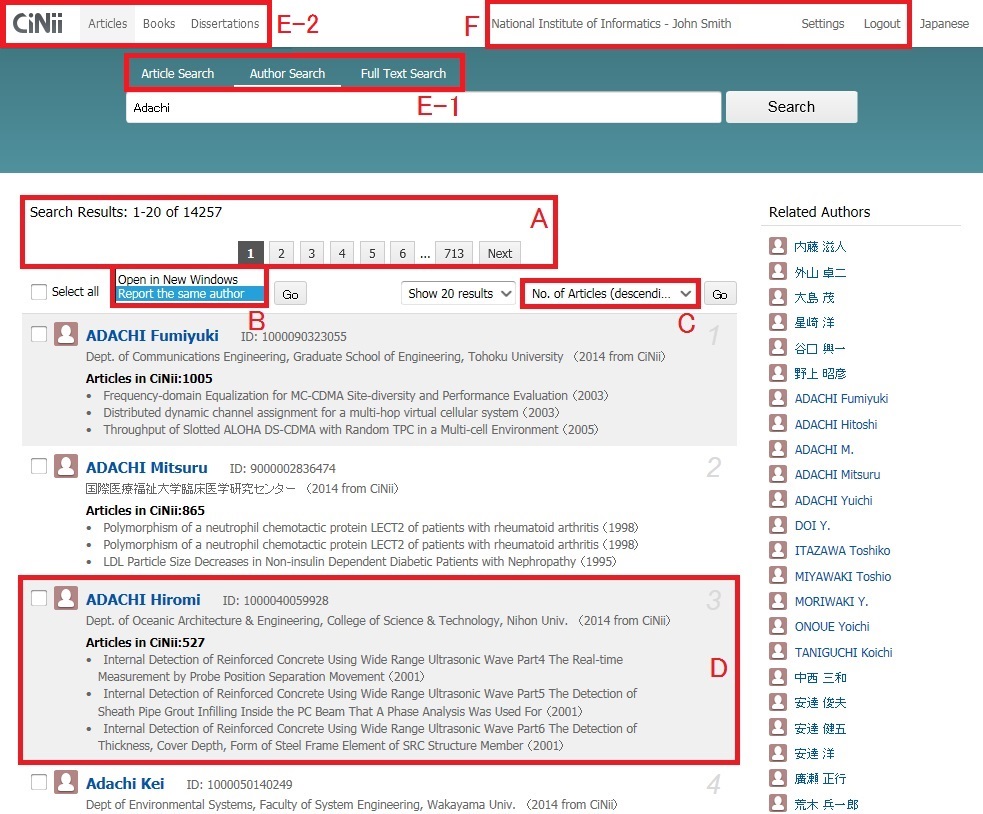 A View search results / jump to different page

Displays the number of records that matching the input keyword(s).
Navigate search results displayed on multiple pages (next page, previous page, first page, final page).
Displays the search conditions input on the previous page for confirmation purposes.

Search conditions: search field (keyword) (multiple keywords)
Example: search conditions:Kokujo Taro

B Select the operation

Open in New Windows
Detailed pages of all books and journals selected by checking the checkbox would be displayed in new tabs or windows of web browser.
Report the same author
Checking the checkbox will take you to Feedback page for reporting the same person in search results.
C Change display order

Displays the current search results in a different order.
Please note that this only changes the order of the current display. It is not for specifying the display order for a refined search.
 Author Name (A-Z) ・・・ Sorts by author name in ascending order of character code.
 Author Name (Z-A) ・・・ Sorts by author name in descending order of character code.
 No. of Articles (descending) ・・・ Sorts by number of times the article, with the highest number at the top.

D View simplified information
〈Format〉

Author name CiNii Author ID
affiliated institution(Source year)
research fields
Match No.
Number of CiNii collection articles
Article title(Three or less)
〈Example〉

D-1 Author name
Clicking the Author displays the details screen.
D-2 CiNii collection articles
The author writes, and all or parts of the article collected to CiNii Articles are displayed.
E Jump to different search method
E-1 Switch to Article Search and Full Text Search
Clicking on the tab of "Article Search" and a "Full Text Search" will change a search method.

E-2 Switch Change to CiNii Books/CiNii Dissertations
Clicking on "Books" / "Dissertations" button at the upper left of the screen can change to CiNii Books/CiNii Dissertations.
Clicking on "Articles" or "CiNii logo" of the upper left on the screen will take you back to the CiNii Articles top page.