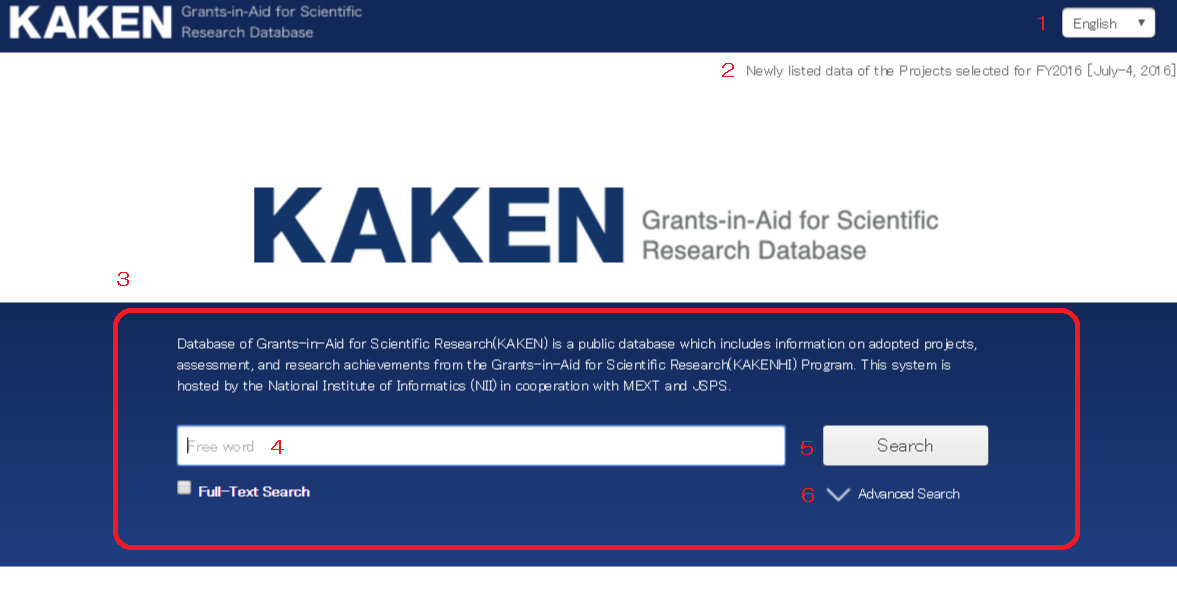 1. Switching Languages
Language switch switches the display language for instructions or labels of displayed data.
Target information won't be affected by switching the language (i.e. all projects are searched).
Regardless of the display language, the contents of a report written in Japanese are displayed in Japanese and those written in English are displayed in English.
2. System Message
Where there is a notification message, the contents will be displayed here. By clicking it, the details of the article will be displayed.
3. Search Box
Search Box is displayed in the home page as well as in the search results page.
When you enter conditions in multiple entry boxes, only the projects that meet each condition will be displayed.
Japanese letters (kanji and kana) are match on a character-by-character basis. Alphanumeric characters are matched on a word-by-word basis (i.e. a string that is separated with a space or symbols). For details, please refer to here.
When you entre multiple strings separated with a space in between them, projects that include all the strings are returned. In such cases, word orders are ignored.
When an error is detected in your queries, an error message will be displayed at the top of the page (see the example below).

4. Free Word Entry Box
You can use the same query syntax as Advanced Search (e.g. NOT, OR, prefix-matching, and phrasal search) in a free word search.
5. Search Button
By clicking the search button, you can search for the projects with the entered conditions.
6. Advanced Search Button
By clicking the advanced search button, the advanced search screen will be displayed.
7. Search from address bar in Chrome browser
You can search from address bar as follows.
[KAKEN[space]free word]