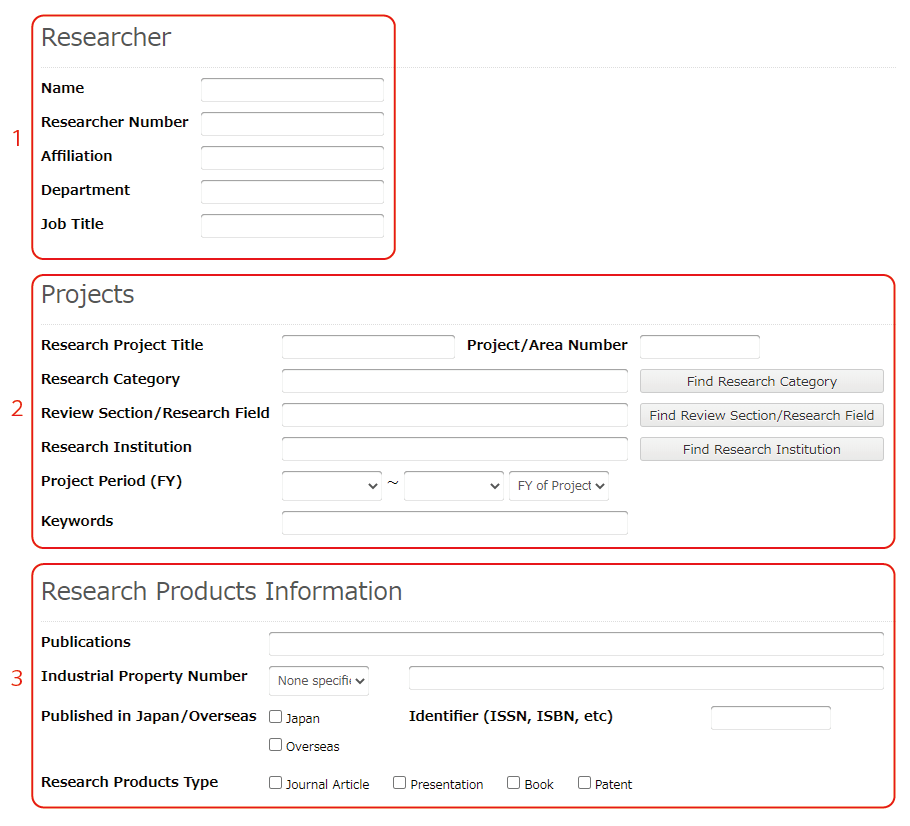 1. Researcher Information
You can search by basic information of researchers.
Name: By searching without spaces between the first and last name, you can search for an exact match of the full name.
Affiliation / Department / Job title: You can search not only by current affiliation but also affiliations based on past research project information.
2. Research Projects Information
You can search by information on research projects that researchers participate in.
Research Category, Review Section/Research Field, Research Institution: The following input methods are available:

Enter a character string in the direct input field.
Click on "Find Review Section/Research Field" etc. and select from the list of fields etc. displayed.
For details of the reference input, please refer to the following pages:

Research Period: It is also possible to search by specifying only the start or the end of the period.
Keywords: It searches for keyword information described in reports submitted for research projects.
You can also search for 'Review Section/Research Field' and 'Keywords' by clicking on a link such as the field displayed in the search result list or the project details screen.
3. Research Products Information
You can search for titles, author names, publication years, journal titles, etc. of published research results of the participating research projects.
Various IDs: You can search by identifiers such as DOI and ISBN.